My three most recent art talks were given to school groups in 2018, two in Swansea on painter Josef Herman and one in the Rhondda on sculptor Robert Thomas (1926-99).
My most recent formal lecture was 'Mapping The Welsh Group at 60 (Revisited)'. It was prepared for the Ystradgynlais District Heritage and Language Society and given at the Welfare, Ystradgynlais, south Wales, on 24 September 2015. In this illustrated talk, I revisited a research, exhibition and publication project which dated to 2006-09 and took me all over Wales. The project drew upon my skills as an artist, art historian and curator and it was made possible due to an Individual Production Grant from the Arts Council of Wales.
My previous lecture was delivered in Cardiff on 16 July 2015 at the 46th annual conference of ARLIS (the UK and Ireland Art Libraries Society). The conference was titled 'Mining for Innovation: Fuelling the Arts Economy' and was held at Cardiff Metropolitan University. It ran from 15 to 17 July. My contribution was included in 'Session 5: The Welsh Landscape' and it immediately followed a presentation by Dr Paul Cabuts on Ffotogallery's photographic survey and archive 'The Valleys Project'.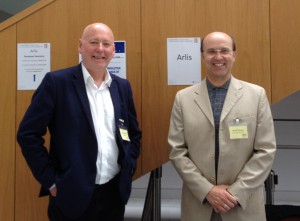 The title of my presentation was 'Two Painters of South Wales'. I put forward the Cardiff-born Joan Baker (1922-2017) and the Rhondda-born Ernest Zobole (1927-99) as alternative models to Kyffin Williams (1918-2006) and Josef Herman (1911-2000). Some of the paintings which I selected are reproduced in the new Art Researchers' Guide to Cardiff and South Wales (Arlis, 2015). This handbook was launched at the conference on 15 July. Both Baker and Zobole have rooms named after them in Tŷ Crawshay on the University of South Wales Trefforest campus.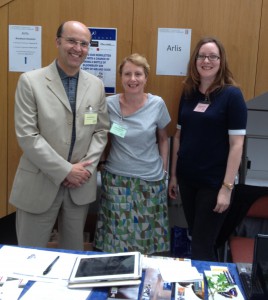 My lecture prior to that was delivered to a live audience on 1 May 2015 at the Welfare, Ystradgynlais, in association with the Josef Herman Art Foundation Cymru. It was titled 'Josef Herman's Artist Contemporaries in Wales' and was given in memory of the artist, art teacher and art commentator Osi Rhys Osmond (1942-2015) who was a patron of the Foundation.
I looked at Herman and fourteen fellow artists. They were: his exact contemporaries Arthur Giardelli, Kenneth Hancock, Alfred Janes; those slightly older than him – Evan Charlton, Ceri Richards, Will Roberts, Evan Walters; and those slightly younger – the male artists John Elwyn, Heinz Koppel, Kyffin Williams and the female artists Brenda Chamberlain, Felicity Charlton, Mary Fogg, Esther Grainger.
Previous lectures given at the same venue include two as part of the 2013-15 'Mining Josef Herman' partnership scheme between the Josef Herman Art Foundation Cymru and the Tate:
Josef Herman (1911-2000), the Welfare, Ystradgynlais, February 2014
Mining Josef Herman, the Welfare, Ystradgynlais, December 2013
Lectures delivered elsewhere include:
'The Force' Paintings of Ceri Richards, given as part of the 'Dylan Unchained – Dylan Thomas Centenary Conference', Swansea University, September 2014
Placing Portraits, given in conjunction with the group exhibition 'Gwena! Portreadau o'r Cymry / Say Cheese! Portraits of the Welsh' at the National Library of Wales, the Drwm, Aberystwyth, March 2010
Nicholas Evans (1907-2004), the memorial lecture, Rhondda Heritage Park Gallery, Trehafod, 2005
(A fuller list to follow)