TV, RADIO AND THE INTERNET
My work with radio goes back to my undergraduate days in the early Eighties.  That with television dates from the early Nineties onwards (apart from a fleeting 'run on' part as a toddler in the Sixties) and my internet appearances date from 2010 onwards.
My direct contact with television and radio has been almost exclusively in Wales.
Behind the Scenes Contributions to Television
2021                                     Consultant for 'Watercolour Challenge' (regarding professional artists in south Wales), Twofour and Channel 5
2014-15                                Specialist researcher / consultant for 'Visions of the Valleys' BBC Cymru-Wales television series (broadcast in 2015 on BBC 1 Wales and BBC 4)
https://www.bbc.co.uk/programmes/b05p706x/clips
2010-11                                Researcher / consultant for 'Framing Wales – art in the 20th century' BBC Cymru-Wales television series (broadcast in 2011 on BBC 1 Wales)

1999-2000                            Researcher / consultant for 'Painting the Dragon' BBC Wales television series (broadcast in 2000) 
https://www.imdb.com/title/tt1597653/
1995                                       'Ingrid Surgenor' (feature programme including a painting by Ceri Thomas of the piano accompanist) HTV Wales
Selected Television and Radio Appearances
2022                                      'Watercolour Challenge', Twofour and Channel 5 (episodes 12 and 13 talking about Joan Baker and Ernest Zobole)
https://m.imdb.com/title/tt14683844/episodes/?season=1
2014, 2015                           'BBC Wales Today', BBC One Cymru-Wales
2011                                       'Framing Wales – art in the 20th century', BBC Two Cymru-Wales (talking about Ernest Zobole)
https://www.bbc.co.uk/blogs/walesarts/2011/02/framing_wales_kim_howells_art_20th_century.html
https://www.bbc.co.uk/wales/arts/sites/ernest-zobole/

2009                                       'Arts and Entertainment Review of the Year', BBC Two Cymru-Wales
2009                                       'The Art Show', ITV1 Wales
2008, 2009, 2011, 2014       'The Radio Wales Arts Show', BBC Radio Wales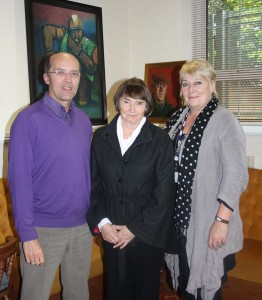 2006                                      'Composer of the Week: Grace Williams', BBC Radio Three
https://www.bbc.co.uk/radio3/classical/britishcomposers/gracewilliams.shtml
https://www.bbc.co.uk/sounds/play/p02kt0v8
2004                                       'On Show', BBC One Wales / BBC 2W
2001                                       'High Performance', HTV Wales
2001                                      'Lisa Matthews', BBC Radio Wales
1999                                      'Robert Thomas: Shapes in Clay', The Slate, BBC One Wales
1998                                      'Heno', Agenda / S4C Wales
1992                                       'BBC Breakfast TV', BBC One; 'Wales Today', BBC One Wales; 'The Final Hurdle', BBC One Wales
1992                                       'Primetime', HTV Wales
1991                                       'First Hand', BBC Radio Wales
1981, 1985                           [Brian Hoey], BBC Radio Wales
Internet Appearances
Current                                 Art UK, Royal Cambrian Academy, Twitter
2023                                       YouTube:  video of Ceri Thomas, 'The View from the South: Four Painters of Wales since 1945', an illustrated lecture given at Highgate School, London, on Kyffin Williams, Joan Baker, Ogwyn Davies and Ernest Zobole as part of Wales Week London 2023
https://www.youtube.com/watch?v=yRrMS7-1fJM
2015                                       iTunesU and YouTube:  video of 'Ronald Lawrence in conversation with Ceri Thomas', a gallery talk (related to the exhibition 'Ronald Lawrence: a retrospective') given in Oriel y Bont, University of South Wales, 2013, and launched in August 2015 to mark the artist's 86th birthday
https://www.youtube.com/watch?v=2SbLRAjJ3LY
https://www.youtube.com/watch?v=b6TxGt1s6go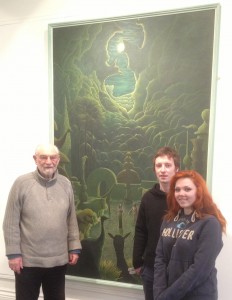 2015                                       SoundCloud: audio recordings titled 'Glynn Vivian On Air: Views from the Collection' – my three Glynn Vivian Art Gallery illustrated talks (covering the visual culture of south Wales from 1910 to the present day and exclusively drawing upon works in the gallery's collection).  Extracts from the first and second talks and a full recording of the third one – all given to live audiences on 21 January, 6 March and 17 April 2014, Swansea
https://soundcloud.com/glynnvivianartgallery/views-from-the-collection-part-one
https://soundcloud.com/glynnvivianartgallery/views-from-the-collection-part-two
https://soundcloud.com/glynnvivianartgallery/views-from-the-collection-part-three
2014                                       Tate and YouTube:  video short 'Animating the Archives: Josef Herman, Sketches of Wales' recorded for the Tate, London
https://www.youtube.com/watch?v=WBNJWACE8sQ
2013                                       iTunesU and YouTube:  video of 'Pop Go the Valleys', a gallery talk (related to the museum's exhibition 'Pop and Abstract') given at Amgueddfa Cymru-National Museum Wales, Cardiff, to a live audience in April 2013 and recorded in three parts
https://www.youtube.com/watch?v=1WPCqWwYcxk&t=425s
https://www.youtube.com/watch?v=-DYXQlXkMdM
https://www.youtube.com/watch?v=XzH6wtYgXiQ&t=1s
2013                                       56groupwales.com:  video of 'Michael Edmonds (1926-2014) in conversation with Ceri Thomas', Joan Baker Room, University of Glamorgan / University of South Wales (filmed by Jon Tregenna)
2012                                       YouTube:  video of 'The Attic Gallery at 50', a gallery talk (related to an exhibition and publication covering the period 1962 to 2012) given at the Attic Gallery, Swansea
https://www.youtube.com/watch?v=zgF_FAKYWkw
2011                                       Podcast: audio of 'Ken Elias talks to Ceri Thomas', Thin Partitions, recorded at the Hay Festival, Hay-on-Wye
2011                                       Podcast: audio of 'Ceri Thomas in conversation with Dafydd Prys ap Morus', a Planet: The Welsh Internationalist 'Leafing Through' production, recorded at Chapter, Cardiff
2010                                       YouTube:  video of 'Placing Portraits – Ceri Thomas', an extract showing the first part of my illustrated lecture given at the Llyfrgell Genedlaethol Cymru-National Library of Wales, Aberystwyth